The QA Business - Bookkeepers Bootcamp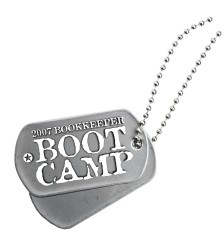 Event details for the next Bookkeepers Bootcamp are still being finalised - Register your interest here and we will be in touch with further information once the Dates and Venue are set.

Day 1
Presented by Clayton Oates
What is a Professional Bookkeeper and what do they do?
We explore the different roles a professional bookkeeper undertakes in their client business and what sets the average bookkeeper apart from the extraordinary bookkeeper. It also introduces some 'out of the box' services that some bookkeepers are offering to enhance their position in the business community.
The ATO perspective on Bookkeeper compliance
We demystify the ATO rules for bookkeepers and explore your ATO obligations as a professional bookkeeper. This session will also discuss the proposed changes to the bookkeeper industry that might affect you.
What Accountants want from Professional Bookkeepers and what your clients want from you
Find out one of the simplest recipes for success as a professional bookkeeper – identifying a need and filling it. Find out what it is Accountants are looking for from their clients and their bookkeepers and what small business owners are crying out for and how you can provide it.
How to Leverage your Time – It's all about Systems
Learn how to develop and implement simple business systems that give you the edge in the bookkeeper marketplace. Find out how process implementation will allow you to service more clients without taking on more hours.
Working the System
Discover the value of a great letter of engagement with your client and their accountants. Work on a library of communications that assist in a clear and productive ongoing relationship with clients and their accountants.
Case Study – Making an Accounting System work for you
Work out the functions to look for when choosing an accounting system to work with. Discover how the right choice can save you and your clients time and increase efficiencies. A comprehensive case study using some of the world's best selling Accounting software Solutions.
Day 2 :
Forensic Bookkeeping – What is it and How to do it.
Set yourself apart by learning a real value add service that pays well. Find out how to proof the balance sheet and why the accountant will love you for doing so.
Setting up and Managing your Bookkeeping Business for Growth and Profit
Learn how to work on your bookkeeping business, not just in it. Find out what you need to do to grow and be profitable, without being overwhelmed.
Value Added Services – Case study of a File Balancing Routine
Learn how to 'balance' your client's bookwork to the accountants figures each year. Most importantly find out why this is something that clients are happy to pay for and that their accountants will appreciate you doing.
Value Added Services – End of Financial Year Guide / End of BAS Period Guide
Discover a proven system for providing end of year information to your client's accountant. This process will increase your value to your client and their accountant.
Goal Setting, Business Planning and Work / Life Balance
A session that helps you set goals for your business and achieve them while still enjoying your life.
How to Market Your Bookkeeping Business
Find out how to effectively communicate your message to attract the clients you really want. Also learn skills to leverage off referral based marketing.